DIVERSITY, INCLUSION AND EQUITY AWARD 
The Male Youth Empowerment Conference
Vincent Harris, Director, Male Success Initiative, Student Affairs (top left)  |  Adriana Badillo, Director, Educational Partnerships, Student Affairs (top right)  |  Genesis Perez, Academic Coordinator, Educational Partnerships, Student Affairs (bottom left)  |  George Parker IV, Senior Program Coordinator, Male Success Initiative, Student Affairs (bottom right) 
The winner of this year's Diversity, Inclusion and Equity Award is the team responsible for Educational Partnerships and the Male Youth Empowerment Conference

: Adriana Badillo, Genesis Perez, George Parker and Vincent Harris.
The Male Youth Empowerment Conference, or MYEC 4.0, is geared toward young men of color in grades nine through 11.  MYEC creates an experience where young men of color from across Southern California gain insight and encouragement into preparing for college life while in high school. This year, nearly 300 young men of color participated in a full day of programming geared toward demonstrating ways in which these future Titans can view CSUF as a destination to thrive, succeed, and reach their goals.  

 TEAMWORK AND COLLABORATION AWARD
The Titan Communications Team 
Eraj Shadaram, Director, Titan Communications, Academic Affairs (top left)  |  Nathan Jeffers, Media Production Specialist, Titan Communications, Academic Affairs (top right)  |  Jeffrey Whitten, Television Media Coordinator, Titan Communications, Academic Affairs (bottom right)
Eraj, Nathan, and Jeffrey directed, produced, shot, and edited videos for the award-winning 2018 Presidential Rap Video

, which had more than 100,000 views; the 2018 Holiday Video

 with a record-breaking 6,000 views on Twitter and 25,000 views on social media; the 2019 University Awards Program featuring Kevin Costner, Gwen Stefani, Bruce Bowen, and Justin Turner; the 2019 Convocation Dance Video

; and the 2019 Holiday video

 that broke their own records. Together, these videos have brought hundreds of thousands of viewers to the university through the power of song, humor, dance, and by creatively infusing our points of pride in each of these videos with masterful editing.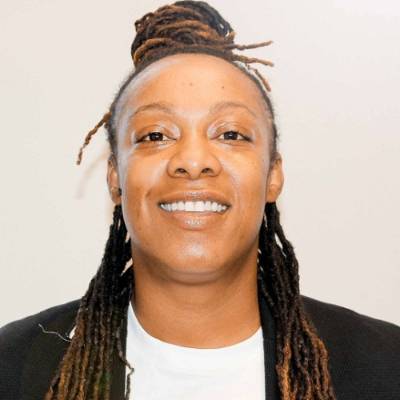 DIVERSITY, INCLUSION AND EQUITY AWARD 
Sharrica Miller, Assistant Professor, School of Nursing 
This year's recipient was  Sharrica Miller,  assistant professor of nursing, whose leadership helped establish the first annual Diversity and Inclusion Symposium within the School of Nursing. The symposium introduced important topics surrounding diversity to the campus, such as ethnicity, religion, sexuality and gender expression, providing an opportunity for the campus to recruit and retain a more diverse student population.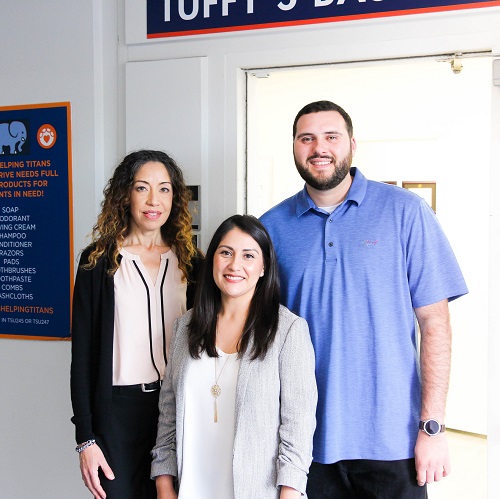 TEAMWORK AND COLLABORATION AWARD
Tuffy's Basic Needs Center
 Carmen Curiel, Associate Dean of Students (left) Student Affairs, Dean of Students Office  |  Marlene Romero, SSP III (center) Student Affairs, Dean of Students Office | Nick Jakel, Helper-Aid (right) Student Affairs, Dean of Students Office
This year's winners were members of the Tuffy's Basic Needs team: Carmen Curiel, associate dean of students; Marlene Romero, care services coordinator; and student assistant Nick Jakel. This team was instrumental to the success of the Tuffy's Basic Needs Center in its first year of operation, providing more than 2,000 visitors with food assistance, temporary emergency housing, financial support and the distribution of clothing and hygiene products.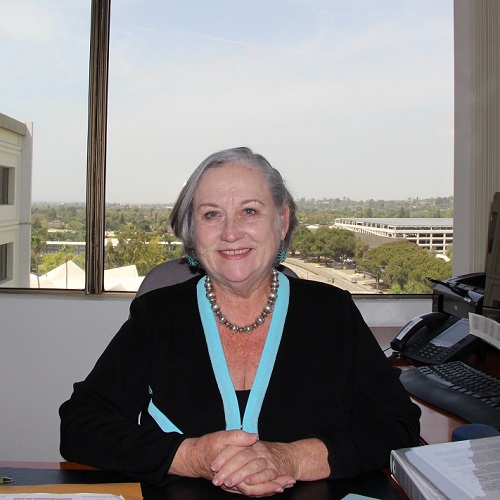 LEADERSHIP AWARD
Eileen Walsh, Department Chair, Sociology
Eileen Walsh, chair and associate professor of sociology, was this year's Leadership Award winner. Walsh was nominated not only for serving as an extraordinary role model to staff and colleagues, but for her leadership in guiding faculty and staff members to contribute to the further growth of the college and its students. She is described as a supportive mentor and collaborative leader with a clear vision for the department that aligns decisions with the students' best interests.