August 19, 2022
Walking challenge winners Empowered to jumpstart their fitness journey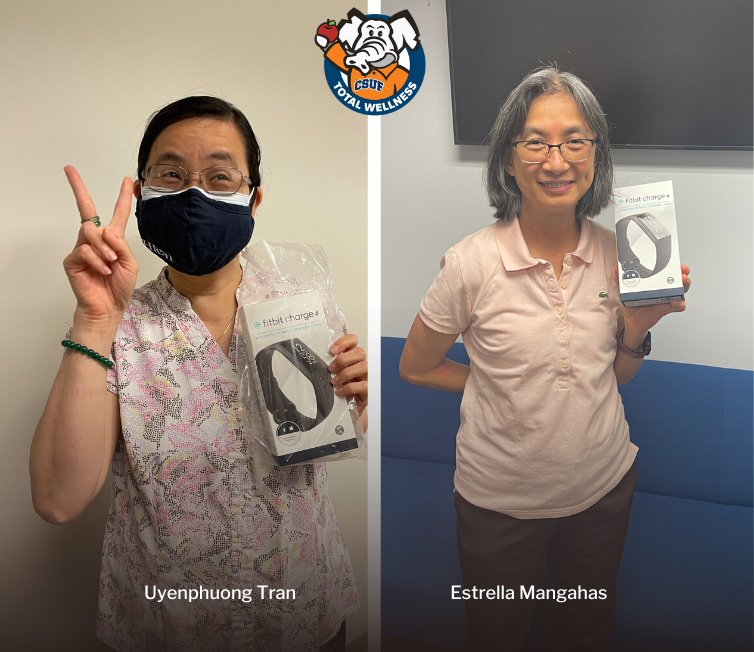 Total Wellness launched a campaign

this spring to encourage faculty and staff to participate in the CSU Systemwide Steps Challenge. Over the 95-day challenge, Titans logged their steps at their favorite locations or on-campus at the Wellness Walk

 for an opportunity to win prizes weekly and a grand prize at the end of the challenge. Thirteen employees were recognized weekly on our website as participants submitted pictures of themselves in front of encouragement signs along the Wellness Walk. After participating almost every week, and reaching up to 10,000 steps per day, two winners emerged and were awarded with a FitBit. 
Congratulations Uyenphuong Tran (Chemistry and Biochemistry Department) and Estrella Mangahas (Accounting Services and Financial Reporting). Both used this challenge as a way to jumpstart their fitness journey and push themselves to walk more steps each day.  While Estrella snapped a picture with every encouragement sign along the walking path (almost twice), UyenPhuong journeyed virtually through the CSUs, learning fun facts along the way. 
---
Congratulations to all the participants who stepped up to the challenge! 
Grand Prize Opportunity Drawing Winners:
Each winner won a fit bit.
Uyenphuong Tran

Estrella Mangahas
Weekly Opportunity Drawing Winners:
Each winner won a Total Wellness swag bag.
Week 1: Estrella Mangahas

Week 2: Veronica Martinez

Week 3: Uyenphuong Tran

Week 4: Mandy Loo

Week 5: Natalie Medeiros

Week 6:  Lisa Mix

Week 7: Estrella Mangahas

Week 8: Debbie Vengco

Week 9: Aundrea Hyde

Week 10: Mandy Loo

Week 11: Winnie Kang-Abreu

Week 12: Uyenphuong Tran

Week 13: RonDee Kelly
Be on the lookout for more fun events from the Total Wellness Department!