Employee Graduate Spotlight
Tips from a Titan Employee Graduate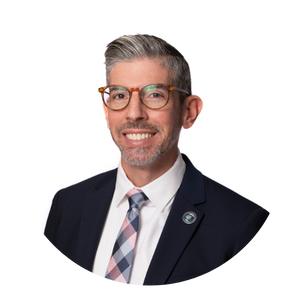 Robert Flores
Assistant Dean for Student Affairs, College of Communications
Doctor of Education in Educational Leadership, Azusa Pacific University
Robert is a first-generation graduate who has served the University as a CSUF employee for 20 years.
---
How has earning your degree empowered you?
Obtaining my doctorate taught me how to use my identifies, experiences, and voice to support others. I felt empowered to propose systemic change to address the needs of underrepresented communities on our campus.
What tips do you have for Titan students pursuing their degree?
Remember it's not a race. Everyone moves at a different pace, so find your rhythm, breathe, and stay focused on the goal. There's not a perfect trajectory to earning your degree, so allow yourself some grace to make mistakes, reset, and continue to move forward.
What tips do you have for Titan employees considering going back to school?
Know you can do it! Talk to colleagues about their experience, write down what a good program should offer you, and take time to speak with alumni from the programs you research. Also, share your plan with supervisor, your family and/or support system. You will need them to help you get thorough those difficult moments and most definitely want them by your side when you celebrate each milestone of your program.
What has been the biggest challenge you've had to overcome while pursuing your degree?
The global pandemic changed how I planned to conduct my research. I had to quickly rethink and rewrite a lot of my proposed research method. Thankfully, I managed to stay on course and successfully defend my dissertation on time.
What are you most proud of during your most recent school year?     
I am most proud that never gave up. There were definitely struggles, but I never allowed myself to think about quitting. I had an amazing cohort during my program, and we always kept each other accountable, and supported one another especially during the pandemic when everything felt overwhelming.
What is your favorite memory at CSUF?
Two decades of CSUF memories it's hard to choose one. Overall, the friendships I have made with colleagues runs deep, and I am grafetul for those special people. The opportunities I've had to launch inaugural programs is always exciting, and the learning and growth I witness in our Titans each year is inspiring.