Employee Graduate Spotlight
Tips from a Titan Employee Graduate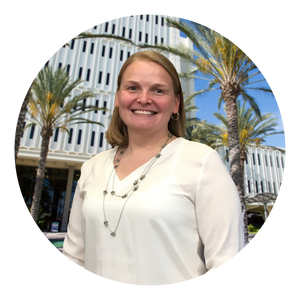 Megan Drangstveit
Principal Investigator, College of Natural Sciences & Mathematics 
Doctor of Philosophy in Higher, Adult, and Lifelong Education, Michigan State University
Megan is a first-generation graduate who has served the University as a CSUF employee for 6 years.
---
How has earning your degree empowered you?
Now that I have my PhD I can serve as Principal Investigator for a new $5 million, 5 year U.S. Department of Education grant focused on serving Latinx and low-income transfer students in science, technology, engineering, and mathematics (STEM). I get to build on the excellent work of Project RAISE and enhance opportunities for community college and CSUF students.
What tips do you have for Titan students pursuing their degree?
CSUF has a fantastic community of folks who are here to help students be successful. Explore your options for engaging in student organizations and campus events, go to office hours, talk with classmates, focus on your emotional and physical wellbeing, and utilize the resources that are here to help you get your degree. Ask for help when you need it, and celebrate the little victories along the way.
What tips do you have for Titan employees considering going back to school?
It can be chaotic at times, balancing work, life, and school, but focus on one semester, one week, or one class at a time. The result will be worth it.
What has been the biggest challenge you've had to overcome while pursuing your degree?
I moved across the country, started a new job, and made it through a pandemic. My support network made finishing a reality - my wife, my parents, my friends, and my advisor helped pull me across the finish line.
What are you most proud of during your most recent school year?     
Hearing the words "Congratulations Dr. Drangstveit" in my dissertation defense. As a first gen, low-income college graduate who also works with first gen and low-income students, it was a reminder that I can do whatever I put my mind to (and so can our students). Graduate school was not on my radar when I started undergrad, and now I have 3 degrees!
What is your favorite memory at CSUF?
Watching students discover and pursue their passions and develop as humans is the highlight of my time at CSUF and as a student affairs professional.